Moving to Edmonton: The Ultimate Guide
Alberta has been experiencing economic growth and diversification, leading the nation with plenty of job opportunities available in a range of industries.
With the countries highest wages and lowest taxes, workers keep more of their earnings, and businesses enjoy a thriving environment, making it an attractive place to live.
If you're considering making the move to Edmonton from Toronto, Calgary, Vancouver or somewhere else, this blog is for you! We'll share the biggest job opportunities currently available and give you a snapshot of what it's like to live in Edmonton.
1. Moving to edmonton from other major cities
moving from toronto to edmonton
Toronto has some of the most expensive real estate prices and cost of living of any major city in Canada. It's no wonder we're seeing flocks of Torontonians moving out West.
Edmonton comes with some serious cost-of-living benefits. Edmonton is also close to the Canadian Rockies. This means that nature lovers have a huge variety of activities to take advantage of.
Moving from Toronto to Edmonton does require a bit more planning based on the distance and moving process. We highly recommend hiring professional movers to help the process run smoothly. There are a number of reputable long-distance moving companies. Some examples are Miracle Movers and Number 1 Movers Van Lines, who specialise in moves from Toronto to Western Canada.
moving from vancouver to edmonton
As is the case with Toronto, the cost of living in Vancouver has people looking outside their province for affordable options. The cost of living in Edmonton is considerably more affordable. In June 2023, the average home price in the Greater Vancouver area was $1,311,090. In that same timeframe, Edmonton's average home price was $420,507.
This means that Vancourites can see their dollar go much further in Edmonton than by comparison to Vancouver.
moving from calgary to edmonton
In terms of housing affordability, Edmonton real estate prices are usually more affordable than in Calgary. This means that Edmonton is a great option for young professionals and families.
On top of affordability, Edmonton's cultural scene, festivals, and community spirit make it an appealing place to raise a family.
2. what is the weather like in Edmonton, alberta?
Edmonton has a humid continental climate with cold, snowy winters and warm summers. The city experiences significant seasonal variations in temperature, with average daily high temperatures ranging from -9°C (16°F) in January to 23°C (73°F) in July.
Overall, Edmonton's climate is characterized by distinct seasonal changes and significant temperature variations throughout the year. The days are short in the winter and very long in the summer (as little as 7 hours of daylight in the winter and up to 17 hours in the summer). Edmonton averages more hours of sunshine than any other major city in Canada.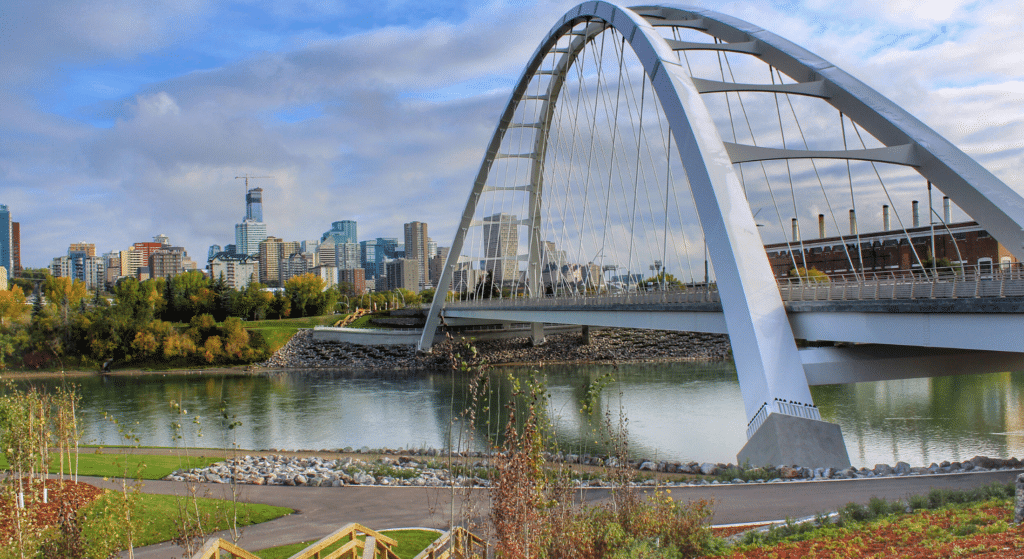 Edmonton offers plenty of things to see and do, food to eat, and modes of transportation that make it an excellent place to live. Whether you want to shop at one of the largest malls in North America, explore river valley parks, visit art galleries, museums, or experience the city's vibrant music scene, Edmonton has something for everyone.
3. the top 5 attractions in edmonton
4. edmonton's top 5 must-try signature foods
5. WHAT type of TRANSPORTATION IS MOST USED IN EDMONTON?
In terms of traffic, like any major city, Edmonton can experience heavy traffic during peak hours. Commuting times can vary depending on where you're going and how you're getting there. However, the city's traffic is generally considered to be less congested than other major Canadian cities like Toronto or Vancouver.
Public transit: The city has a comprehensive public transit system operated by Edmonton Transit Service (ETS), which includes buses and a light rail transit (LRT) system.

The LRT has two lines that cover different parts of the city and connects to major transportation hubs like the Edmonton International Airport.


Driving: Edmonton has a network of highways and major roads that make it easy to get around by car. However, traffic can be heavy during rush hour, especially on major routes like the Anthony Henday Drive.

Cycling: The city has an extensive network of bike lanes and paths that make it easy to get around on two wheels. Edmonton also has a bike-sharing program called "Pogo" that allows residents and visitors to rent bikes.

Walking: Edmonton is a pedestrian-friendly city, with many neighborhoods having sidewalks and crosswalks to help people get around on foot.

E-bike and E-Scooters: Bird Canada and Lime offer ride-sharing services. Simply download their mobile app to locate and unlock the e-scooter or e-bike and off you go!
6. Is Edmonton a good place to raise a family?
Edmonton is consistently ranked as one of the most livable cities in the world, with a high standard of living, excellent education and healthcare, and a low crime rate. It is also culturally diverse with a vibrant and varied arts and culture scene.
There is a strong history of Indigenous culture, which is celebrated through numerous festivals and events throughout the year, such as the annual Edmonton Indigenous Peoples Festival.
Edmonton has a lot to offer families and is very family-friendly. Additionally, it is a great place for children to flourish as adults: with a stable job market and one of Canada's top post-secondary institution: the University of Alberta. However, it's important to consider your specific needs before making a decision to move here. It's a great idea to visit the city, talk to locals, visit different communities.
7. Is housing affordable in edmonton?
Currently home prices are stable amid generally balanced conditions between buyers and sellers. This means that potential homebuyers have a wide range of options to choose from, including single-family homes, townhouses, and condominiums. Additionally, the affordable prices also make it easier for people to enter the housing market and start building equity. Find out more about Edmonton's Housing Market Outlook for 2023 here.
In summary, Edmonton offers a high standard of living. There are various job prospects and top-notch healthcare and education. It also boasts amazing attractions, fantastic food, and dependable transport options., diverse job opportunities, world-class healthcare and education, excellent attractions, delicious food, and reliable transportation options.