Meet Our Sales Team—Blair Robertson
In our ongoing blog series, we'll introduce you to the members of our award-winning sales team at Cantiro Homes. Today, we're excited to introduce Blair Robertson, our Area Sales Manager in Greenbury—Spruce Grove.
How long have you been working in the new home industry?
I've been working for the past 17 years in home sales in the Edmonton surrounding area. Prior to this, I was in construction for over 40 years and worked for a coating business for almost 25 years — you can say, I have a ton of experience!
Fill in the blank. If I'm not working, I am ______?
Spending time with my girlfriend Laurie and our two hounds, Halle and Lexi. One is a rescued Pit bull and the other is a Purebred Cane Corso Bullmastiff.
WHAT ADVICE DO YOU HAVE FOR HOME BUYERS?
When buyers are considering which home builder to work with, do you your research!

Are they well-respected within the industry? Have they won customer service and builder awards? What are their reviews like? Do they belong to the Alberta New Home Warranty Program? I'm happy to assist my clients every step of the way and love to share my knowledge with them.

Homeownership is a long-term gain!

It is the best and biggest investment you will ever make. Don't be discouraged if the market goes up or down.
WHAT'S YOUR FAVOURITE LIFE COLLECTION MODEL?
I'm a bit biased, but my favourite is the Career Achieve—our show home here in Greenbury. There's so many "wow" features in this home. From the main floor work station, to the open-concept kitchen with two breakfast bars to the second floor primary suite with expansive windows—it's definitely a must-see!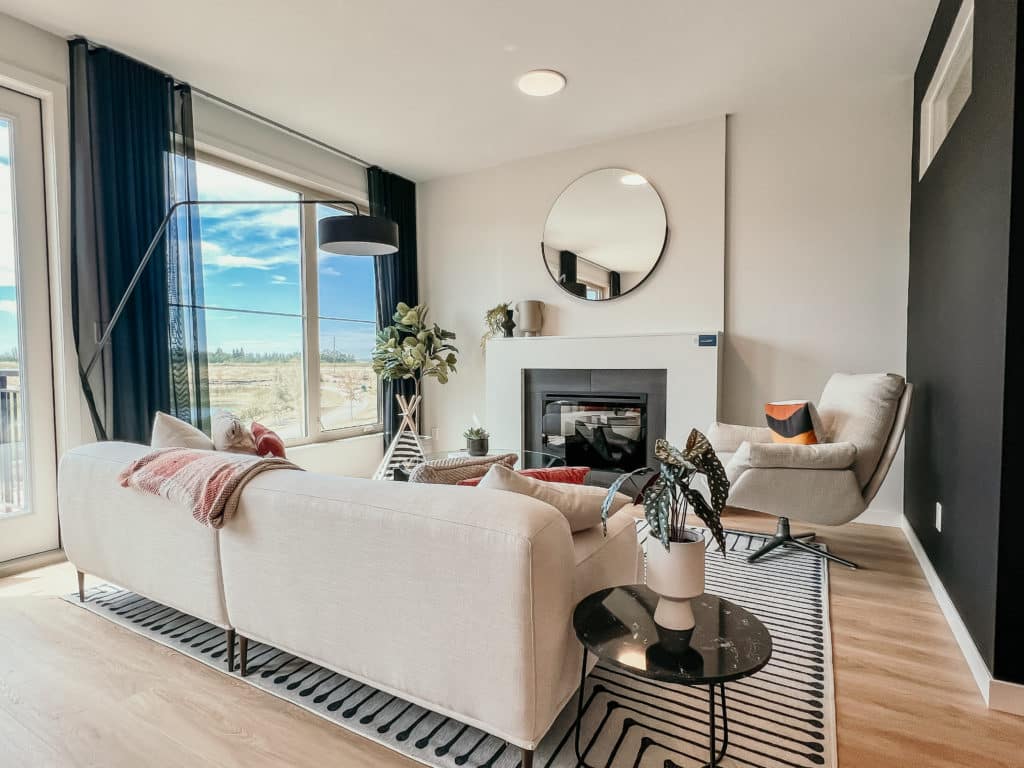 WHAT ARE 3 FUN FACTS ABOUT YOU?
I am a Court Appointed Paint Expert—this means, I can defend a coat of paint in court to prove it's performing as it should.
I love to travel and have spent much of my time in Asia. If I could live anywhere in the world it would be Hong Kong. I love the people, the culture and of course, the delicious food.
I've spent a majority of my career outside of Edmonton and because of this I understand the smaller community mindset. Most of my clients are not interested in the hustle or bustle of the city but prefer a small town charm/feel that Spruce Grove offers.
WHY SHOULD SOMEONE CONSIDER MOVING TO GREENBURY?
Greenbury stands out with its beautiful brownstone architecture—it's not cookie cutter. Every home is different and I love that. There's also a strong sense of community here. Every homeowner takes great pride in their home and where they live.
WHAT'S YOUR FAVOURITE COMMUNITY AMENITY IN SPRUCE GROVE?
The walking trails in Greenbury are amazing! In the summer, I love taking my dogs for a walk along the storm pond—which backs onto our new Career Achieve show home.
Another favourite is Jubilee Park. Located steps from our community in Greenbury—Jubilee Park offers a disc golf course, a spray park and a cross country skiing in the winter. If you're into mountain biking, there's tons of trails surrounding Spruce Grove—perfect for active living!
WANT TO FIND THE PERFECT HOME IN GREENBURY—SPRUCE GROVE?
To schedule an appointment with Blair or book your very own Self-Guided Tour of our Greenbury Show Home in Spruce Grove, please click here.