How do interest rates affect buying a new home?
With the recent changes in interest rates, many buyers are asking if now is a good time to buy a home.
According to RBC Economics' June 2022 Housing Trends and Affordability report, Edmonton buyers still benefit from historically positive affordability. At 27.1%, it is the best for major markets in Canada and remains well under its long-term average (32.5%).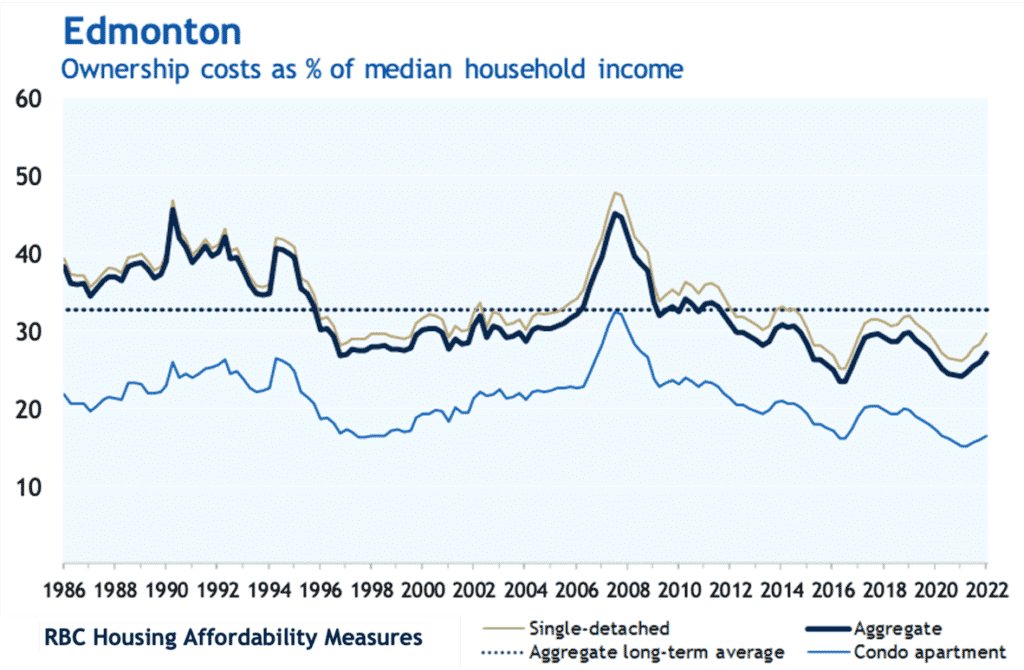 While there have been some recent increases from their historic lows during COVID and the 2008 Financial Crisis, interest rates remain at relatively low levels that we haven't seen consistently since the 1940's and early '50s – and are far below the 20%+ seen in the early 1980s.
Over the span of a 25 year mortgage, you will never get the 'best' historical interest rate for the entire term. If we look back 15 years, 2007 interest rates were above 6.00% and prices were steadily increasing but if you had purchased at that point you would now have 17 years of principle paydown and in some housing segments up to 100% purchase price appreciation.
As part of the Life Collection, Cantiro offers homes at varying sizes and budget levels and has worked closely with our trade partners to pre-order supplies in bulk wherever possible to provide the highest quality at the best value in a timely fashion.
Each Cantiro Home's standard specification is also designed to perform at least 15% higher than standard builds which ensures lower ongoing operating costs and qualifies the owner for rebates from their mortgage lenders. For those who are interested, we also offer additional environmental and sustainability options that can take your home all the way to a Net Zero rating.
Sometimes changes in your life mean that your current home just doesn't meet your needs anymore. Weddings, growing families, working from home, and other factors can mean that it's time to trade in what you have and get something that works better for your family.
Quick possessions can be a great option if you need to adapt to your life changes sooner than later and Cantiro has been working with our trade and financial partners to secure best pricing and exclusive interest rates for our buyers. If you have a great interest rate, bring it with you and port your mortgage over to the right house!